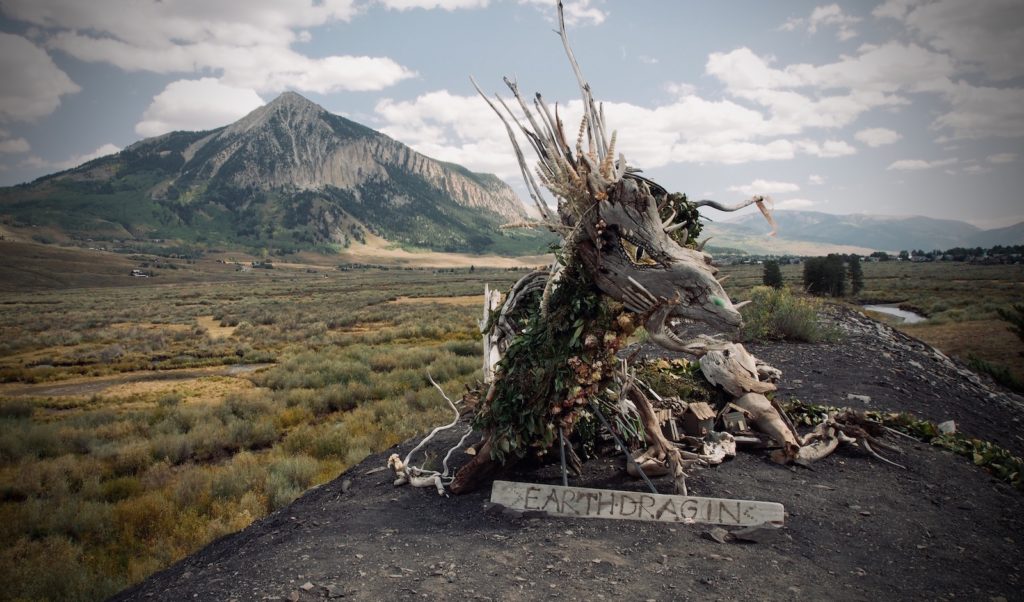 Walking the Way: A Vinotok Pilgrimage
Balance & Reciprocity
Vinotok Altars, generously sponsored by local businesses, have been popping up on Elk Avenue for several years. They are constructed to represent the archetypes of our principle characters such as the Harvest Mother, Green Man, Sir Hapless the Knight and the Earth Dragon (and more!). While some appear on Elk Avenue, others migrate to our Wastelands, those places scarred by our mining history in need of healing.
Once the altars are installed, you'll be able to visit them and strike out on your own Vinotok Pilgrimage to visit all the altars and archetypes. Each will have mythology, information and poetry about that particular archetype, and then each will also offer a gift. It might be a journaling prompt or instructions on constructing a Beckoning Prayer Flag for the Fire Circle. One might direct you to a Grump & Gratitude form to access for writing down your Grumps and leaving at the Fire Circle, another will provide materials and direction on beginning a head wreath.
In the spirit of balance and reciprocity, you will be asked to leave a blessing, sentiment of gratitude and appreciation, offering of healing, or pardon request to the land where that altar exists. Examples of offerings might be a bundle of herbs from your garden, or a special rock, feather or other found object. In making the entire Vinotok Pilgrimage you will collect all the base materials and instructions for celebrating the whole week, as well as a growing knowledge of the mythology underlying the foundational archetypes and practices of the celebrations. Ideally, disconnect from technology and bring a journal and pen to take notes on what you discover at the altars. You may also, of course, take a photo to capture the information.
The altars have been removed, as fall gives way to winter. We'll reconnect in 2022.
Rules & Suggestions for Leaving Objects at Altars
* It must be a natural object (i.e., nothing human-made).
* Take a walk in nature and find things you would like to offer back to the land.
* Please no paper or anything else that can fly away with the wind.
* Nothing flammable like candles, incense, burning sage, etc.
* Flowers may be left, but please do not pick fresh wildflowers for this. You may purchase flowers from a local florist or use flowers from your own garden.
* Small bundles of dried flowers, grasses or leaves may be used, but please shake out the seed pods to release the seeds on the ground so they may do their thing. And do not collect very much from any one spot.
* Garden items like small herb bundles tied with grass could be used, but please no food that might attract critters.
* If you collect anything from nature use the utmost respect. Be careful where you step and do not collect too much from any one place.
* Grasses, leaves or sage tied in bundles, harvested respectfully, can be appropriate live items. All other collected items from nature must not be living (i.e. flowers, moss, mushrooms, etc.).
* Please leave objects you don't mind departing from permanently. All gifted objects will be collected after Vinotok and disposed of in an honorable way. If you do not want your gifted object released back into the earth, you must collect it before we do.
---
Gratitude
We are so grateful to the businesses who sponsored our Altars in 2021!