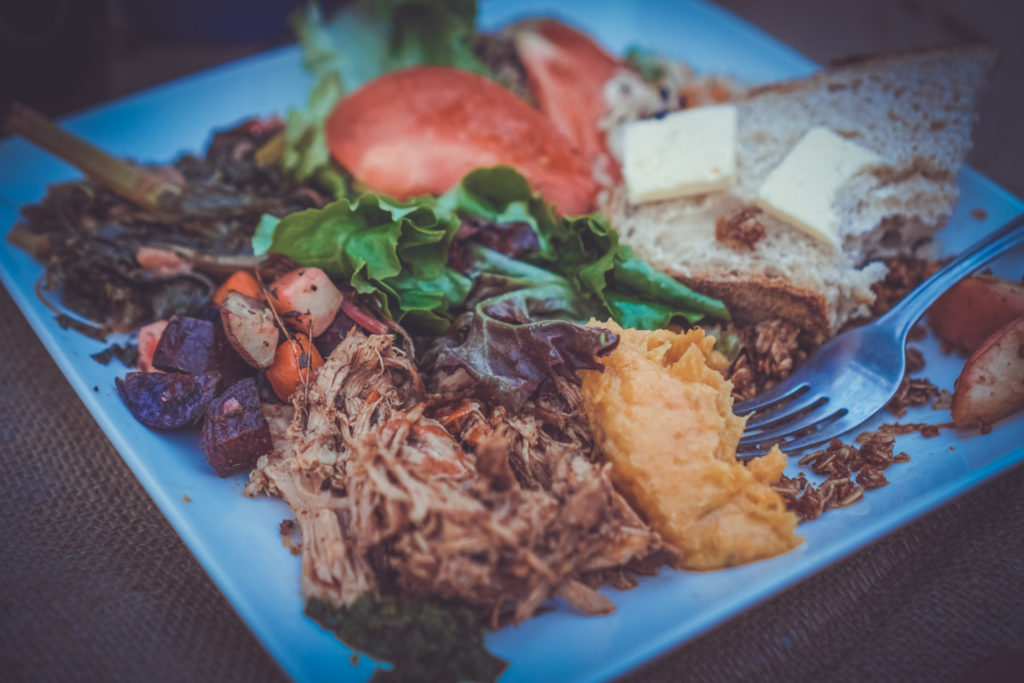 Thank you to all who came out for the 2023 Community Feast + Fair! See you next year!
Step into a world between worlds at the Community Feast + Medieval Fair. The whole Vinotok cast will be there in full regalia including stilt walkers, minstrels, the Dragon and the Knight, the Green Man, Forest Creatures, and more!
Doors open at 3 p.m. so you can make a head wreath, get body art, draw a rune for the year, banish your grumps, and beckon your desires. The liquor tent opens with our cash bar at 3 p.m. with our special Vinotok Village wine by Buckel Family Wines sold by the glass or bottle; plus mead, hard apple cider, and beer by the glass. At 5:30 p.m. the ceremonies begin with a Blessing of the Feast, after which our Community Feast of seasonal, organic, regional, and sustainably grown vegetables and meats is served.
Dinner is served from 5:30 p.m. to 6:30 p.m. Remember to bring your own utensils, plates, and mugs from home! Vinotok does not provide the vessels, just the food.
After our Community Feast, stay for the evening's celebrations beginning at 7 p.m., including an All-Community Handfasting Ceremony with Marcie Telander, D.Div where couples, families, friends, partners, and the entire community re-commit for a healthy, transforming future dedicated to each other and the earth. Following the Handfasting Ceremony, watch the Induction of the Squires and Dedication of the Grump Indictment Ceremony where the Grump is charged with the grievances of the world, and offered gratitude for his sacrifice. Please bring an offering such as a flower or herb bundle to help adorn the Grump, as well as your paper grumps you would like to leave at the Fire Temple. We'll have fire-spinning and cauldron fires after the play.
The Community Feast + Fair is a lovely way to financially support Vinotok and our full week of offerings in addition to breaking bread with our community.
Feast + Fair Tickets: $30 in advance; $35 at the door; $15 children 12 & under. Tickets at Rumor's/Townie Books.
Fair Only General Admission (no food): $10. At the door.
---
Schedule of Events
3 p.m. – Doors open for wreath making, body art, runes, prayer flags, minstrels, stilt walkers. Liquor tent opens.
5:30 p.m.-ish – Blessing of the Feast. Food service begins.
6:30 p.m. – Make sure you're in the Feast line by 6:30 p.m.! We will serve no later than 7 p.m.
7 p.m.-ish – Handfasting, Induction of the Squires, Indictment of the Grump, and Fire Performances.
9 p.m.-ish – Dancing, fire spinning, cauldron fires.
10:30 p.m. – Feast & Fair ends.
Extra Information
We persevere in rain or shine! Dress warmly! Bring a rain jacket just in case.
Bring your own eating and drinking vessels as Vinotok does not provide these items.
Be patient and open to a fluid schedule. We try to stick closely to the performance schedule, but we are a community tribe, not a professional production company.
Feast service is an exciting window of time! Please be in line no later than 6:30 p.m. to make sure you get a plate! We must stop service promptly at 7 p.m.
You may bring your own snacks or food to the Fair.
Please leave your personal alcoholic beverages at home. We have a liquor tent to quench your thirst.
Please leave your pets at home. Service animals are welcome.
Our cauldron fires bring people together to chat, engage with each other, perhaps read some poetry or short verse, and connect. Please do not throw anything, especially toxic or hazardous materials, into the cauldrons. Our Fire Master will keep the fires burning for you until the end of the Fair.